Zombie Festival and Trail Run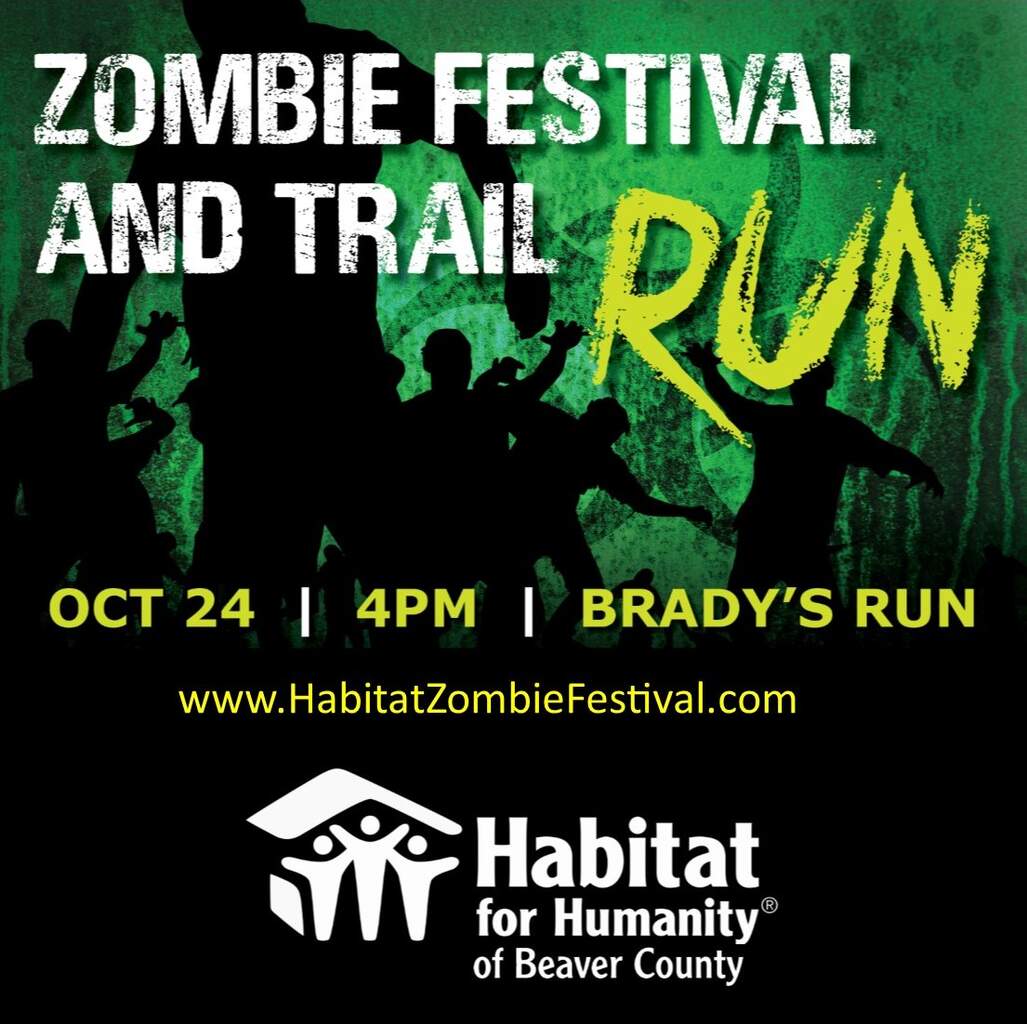 Oct 24
Four Seasons Pavilion at Brady's Run Park
121 Brady's Run Road Beaver Falls 15010
(724) 846-1630
Contact Information:
Habitat for Humanity of Beaver County
ZOMBIE FESTIVAL AND TRAIL RUN
(ages 14 and over)
A zombie outbreak has infected the world! A quarantine site has been set up at the Four-Season Pavilion at Brady's Run Park, a safe haven where survivors from all over have congregated to share resources and wait out the impending disaster. As the survivors settle in and begin to plan, there is a commotion. An unsettling feeling, growing murmurs, panic...screams! There's been a breach! The zombies are here! There is nothing to do but RUN!!
TRAIL RUN
Run for Humanity is a thrilling post-apocalyptic trail course for ages 14 and over. Register as a Human, a Zombie, or a Placed (stationary) Zombie. Humans are given belt flags to represent their "lives," and zombies try to snatch the humans' flags. Humans get an advanced start on running zombies but will encounter "placed" zombies along the way who will be hiding at various spots along the course! Humans strive to keep at least one flag by the time they reach the finish line to be a survivor. Zombies try to collect as many flags -- human lives -- as they can. Human runners can choose whether or not to have flags. (approximately 2.5 miles)
All Trail Runners will be transported to the starting line via bus. The race will end at the festival.
FESTIVAL (Free)
Runners will end the trail run at the quarantine site where they can enjoy Zombie Dancing to a DJ, food and craft beer available for purchase.
Coming to support the invasion but don't want to run? You can still be a part of the Zombie Apocalypse in the quarantine site for free.
Party like it's the end of the world as you know it!
Due the realistic nature of this event, please leave children under 14, pets and other fur babies at home. Otherwise they may end up as zombie snacks.
Event happening Rain or Shine
No refunds
This is not a timed race
http://www.BeaverCountyHabitat.org
https://www.facebook.com/events/826562814442034/
https://www.facebook.com/beavercountyhabitat/