About Your Trip
We are excited to welcome you to Beaver County, PA, just 30 minutes northwest of Pittsburgh, along the meandering Beaver and Ohio Rivers, where you and your families will have the opportunity to safely explore our many outdoor activities and unique things to do! An array of lodging and restaurant options, within close proximity to Taylir Cay Marina at the Beaver River, are available to you. Watch the regatta from Taylir Cay Marina, or from the deck at Kelly's Riverside Saloon. Make sure you leave time during your visit to experience one of the top 8 pinball arcades in the U.S., expansive parks and trails, or underground ATV mine tours! Download a copy of our Experience Guide for additional assistance in planning your trip.
Getting Here
Getting here is easy with immediate access to the Pennsylvania Turnpike! With free turnpike access between Interstate 79 (running north/south) and the Beaver Valley exchange, road trippers from any direction have easy access to this picturesque destination. The Pittsburgh International Airport, just 20 minutes down the road, offers access from nearly 50 destinations and 100 daily nonstop flights.
Directions to Taylir Cay Marina
From the North and/or East take PA-51 to Riverside Drive.
From the South and/or West, follow PA-65 N/Ohio River Blvd. Turn left onto the Veterans Memorial Bridge and then turn left at the 1st cross street onto Riverside Drive. Continue on Riverside Drive to either Taylir Cay Marina or Kelly's Riverside Saloon.
Please note that Taylir Cay Marina is highlighted in blue. For a larger map, click the image below.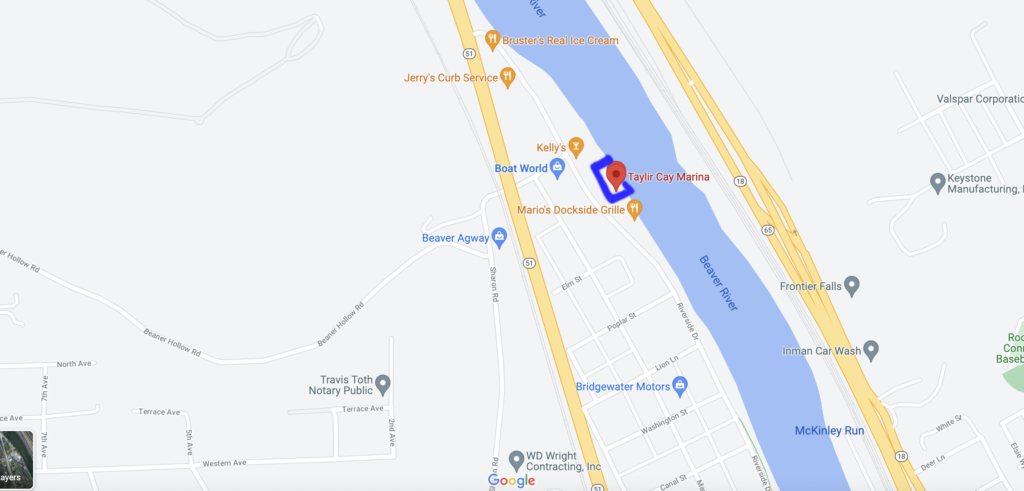 Where to Stay
Beaver County has more than twenty hotel and motel properties, bed and breakfasts, and campgrounds offering choices for your overnight stay. It is recommended that you book your accommodations as soon as possible.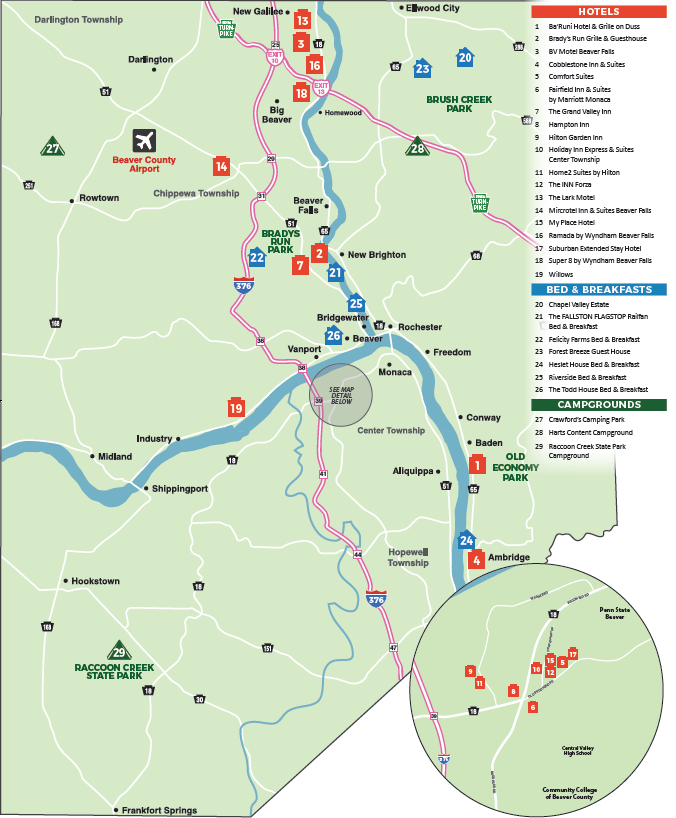 WHERE TO EAT
Beaver county is packed with fantastic restaurants. Whether you are in the mood for casual dining, family friendly cuisine, breweries and pubs, local gourmet shops, a late-night snack or one of the best doughnuts in Pennsylvania, many options, to meet every taste, are available near Taylir Cay Marina!
LOCAL EVENTS
Stay for the weekend and attend one or all of our local community events!
FAMILY FUN & AMUSEMENT
Whether your tribe prefers traversing the great outdoors, learning about history, or experiencing adrenaline-pumping activities that will have your heart racing, make your visit to Beaver County one for the books.
Spanning 877 acres, nearby Mines and Meadows ATV/RV Resort has ATV, dirt bike, and side by side riding trails and has the only underground riding in the northeast.
Catering to sports cars, formula cars, motorcycles, and more, Pittsburgh International Race Complex has three different configurations. Combined, the full course is 2.78 miles in length and features significant elevation changes, following the natural terrain that winds through 427 acres. In addition to the main racing surfaces, Pitt Race also boasts a 0.82-mile kart track providing a rush of excitement as one of the fastest kart tracks in Pennsylvania.
Head over to Pinball PA which offers one of the largest collections of video games and pinball machines in the country. Pinball PA houses over 420 video games and pinball machines all turned to Free Play. Once you pay admission, you are free to play every machine in the museum!
ARTS & CULTURE
Bringing the past into the present, the Air Heritage Museum of Western Pennsylvania allows aircrafts to guide you through the rich history of flight. The museum holds aviation-related artifacts from past to present, Japanese and German artifacts from WWII, as well as civilian, commercial, and military antiquities.

From Beaver County to Broadway, Joe Namath has always maintained his roots in his hometown. Walk around Joe's old stomping grounds and learn more about the Super Bowl victor at the Larry Bruno Foundation Hall of Achievement & Museum.
Old Economy Village, a must-see, tells the story of the Harmony Society, one of the oldest and most successful religious communal groups of the nineteenth century. The site contains the restored historic structures and gardens built between 1824 and 1830. The buildings, grounds, library, archives, and original artifacts are a memorial to the Society's commitment to the religious discipline and economic industry that built their American Utopia.